About Me
Kim Edmiston has been an established bookkeeper for over 20 years.  Kim started her bookkeeping career in 1995 establishing the accounting division using QuickBooks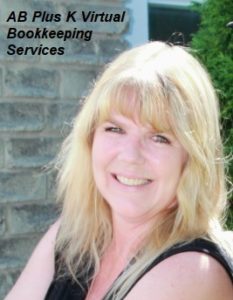 Desktop for a computer technical support corporation. She continued her career in the financial industry working for Davis + Henderson in data base management – financial division, as a billing analyst.
Kim moved to Georgina in 2005 and started her own business in 2009 under the operating name of Edmiston Office Services. Kim took a break from 2010 – 2015 while raising her children and running a digital media liscenced company called momstown Georgina & East Gwillimbury. During this time she was also a guest blogger, community producer and co-host of a local TV show called mommy talk.   She remained an active bookkeeper with a few bookkeeping clients through these years.   In 2015 Kim rebranded her company under the operating name of AB Plus K Virtual Business Services, now known as AB Plus K Virtual Bookkeeping Services.
Kim is a certified Elite QuickBooks Online ProAdvisor, previously certified QuickBooks desktop, Xero certified partner, and Cosmolex (trust accounting) partner. Kim's journey was also featured in a marketing promotion for Bookkeeping Business Launch.
Kim wrote a book that was launch November 2022, available through email for signed copies or through amazon. 
Kim wrote this book to empower women wanting to start a business but not having the confidence to do so. This book is about Kim's journey, and what you need to start a business and finding balance with your personal life as a single mom and successful business owner.
Accurate Record Keeping Is a Key Component to the Success of Your Business.
Partners I work with:
Previous
NextEli